Lead Poisoning Primary Cause Of Death In Utah's Endangered Condors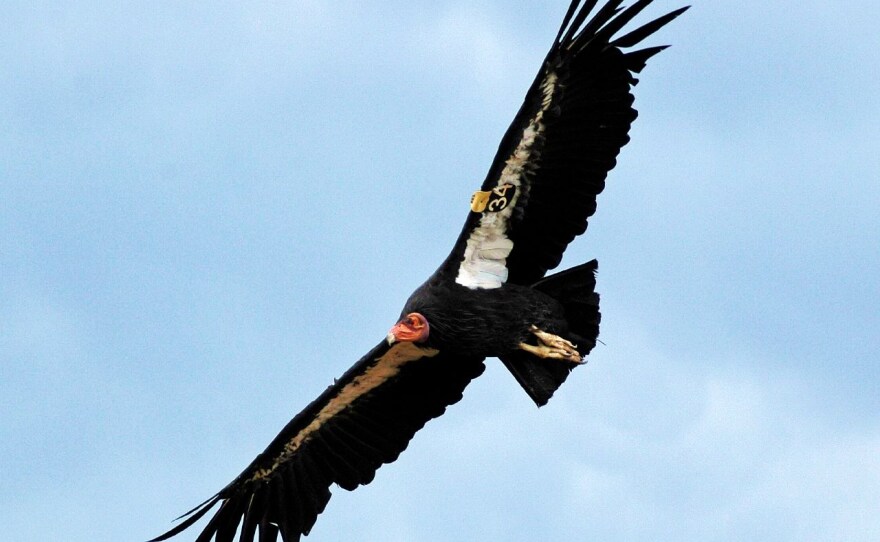 The California Condor is the #4 most genetically unique endangered bird in the world.
Scott Page
Condor #87 sunning near Pipe Creek along the Tonto Trail in Grand Canyon National Park.
Michael Quinn / National Park Service
This condor was seen soaring over Angels Landing.
Jenny Eberlein / National Park Service
Condor #9 in Zion National Park. Day said that for some tourists, the condors are a major attraction.
Erik Newmark / National Park Service
Utah recommends using non-lead ammunition while hunting in the Zion unit (bottom left corner).
Utah Division of Wildlife Resources
If you see one, especially up close, you always remember it. They have featherless orange-pink faces and their massive wings span nine feet. Iconic and intimidating, there is no forgetting the critically endangered California Condor.
According to Keith Day, a wildlife biologist with the Utah Division of Wildlife Resources, there are 75 California Condors in the Zion National Park area. But the population isn't growing.
"Lead is detrimental to condors," Day said. "They do succumb to lead poisoning. With condors in Arizona and Utah, it is definitely the leading cause of death."
Hunting is a big sport in southern Utah so the state recommends non-lead ammunition to be used in the Zion hunting unit in order to protect the condor. But the recommendation is optional and unenforceable.
Wildlife expert Richard Reading, who recently visited Utah State University, said lead does more than just kill condors.
"The Center for Disease Control in the U.S. has specified there is no safe legal limit for lead. If you care about your own health, you shouldn't use lead, because that lead bullet fragments extensively. You might be consuming it and poisoning yourself," Reading said.
There are alternatives to lead like copper. But copper ammunition is more expensive. And some hunters don't like using this metal remembering how early copper ammunition sometimes caused their rifles to be less accurate.
Keith Day said copper ammunition is now much improved.
"Copper ammunition has been a bit more expensive," he said. "That's changing though. Prices are coming down. They're becoming more equivalent to a premium lead ammunition. Some people remember when copper first came on the market many years ago. There were some problems with it. For the most part those problems have all been taken care of."
DWR can provide non-lead ammunition to hunters in the Zion area and plans to maintain the voluntary ban on lead in area populated with condors.