We use Five Billion Gallons of water in Utah every day. Where does it go? What does it go through? With an award from Penn State Public Media's "Think Outside the Pipes" reporting initiative, this series of reports we're calling "Five Billion Gallons" brings you stories on water use, infrastructure, and issues in Utah.With your hosts Jennifer Pemberton and Matt Jensen.Tune in October 1 - November 6, 2013:Tuesday afternoons at 4:30 & 6:30Wednesday mornings at 7:30 & 8:30Follow the program on Facebook for all your Utah water news
Episode 2: What Trees Know about Drought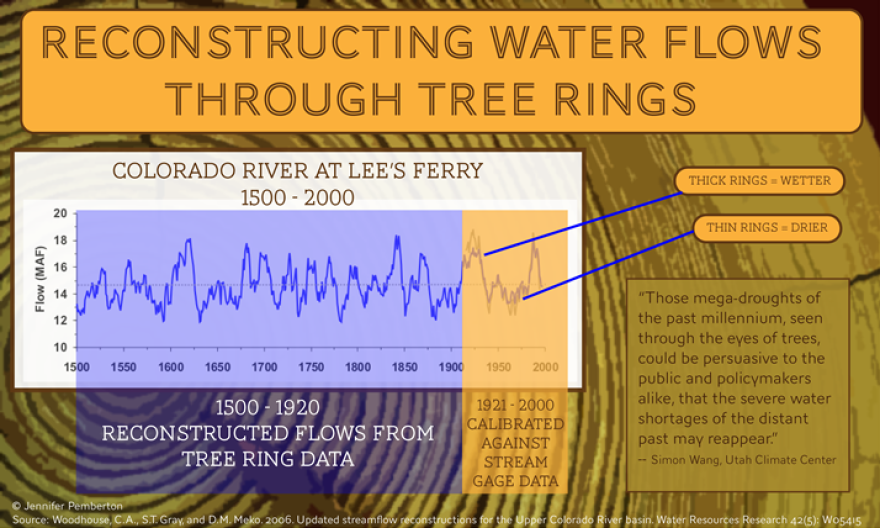 The trees in Utah's forests suck up water like sponges, and leave a record in their growth rings of when there was a lot of water in the region and when there was very little. Researchers are learning to decode the tree ring record and reconstruct what Utah's watersheds have been through over the past millennium. Today on the program, we bring you the story of how Utah's water past can help us plan for Utah's water future.
Special thanks for help with this episode to Western Water Assessment, Wasatch Dendroclimatology Research Group (WADR), and the Utah Climate Center.
Additional Information:
Five Billion Gallons is a production of Utah Public Radio, supported by Penn State Public Media's "Think Outside the Pipes" radio initiative.