Project Resilience: Missing And Murdered Indigenous Women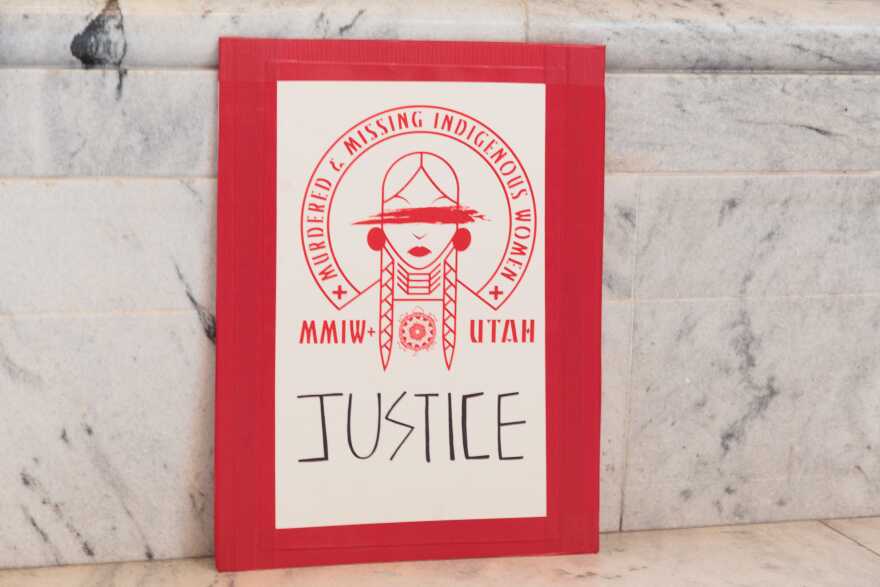 According to a 2018 study from the Urban Indian Health Institute, Utah ranks 8th in the nation for the
number of missing and murdered Indigenous women and girls. Utah legislators recently formed a task force to address why Utah's numbers are so high. But the bill is only a part of the overall work being done to address this issue.
Representative Angela Romero told the Utah State Legislature that, "The U.S. Department of Justice found that American Indian women face murder rates that are more than 10 times the national average."
Romero sponsored House Bill 116, which created a task force to research the causes of the high rate of missing and murdered Indigenous women and girls in Utah.
Romero said there is disagreement among Indigenous communities and law enforcement about the accuracy of the data from the Urban Indian Health Institute. She said one of the goals of the task force is to fill in gaps in the data and in how information is collected.
"When we think about marginalized communities, many times they're invisible, many times they're forgotten. And so, I wanted to bring that face to the forefront."
The passage of HB 116 is a significant step to confronting this problem, but it is only a part of the overall work being done by groups and individuals on this issue.
Michelle Brown is the Chairperson for Missing and Murdered Indigenous Women Utah, a group working under the umbrella of PANDOS, a non-profit grassroots activism organization. She describes work that supports families and educates the public about individuals who are missing or who have been murdered.
"I think when people see a name, hear a name, it's a person. [They are] able to recognize that that person is missing or is murdered. It's not just this abstract idea of, oh, someone's gone missing. It's like no, this person this specific name has been missing or has been murdered. We miss this person, we want to know where they are or we're mourning still."
One example of the work MMIW Utah does, Brown said, is when they paid for one family's gas expenditures for driving to and from court.
"Being able to dictate as a group, this is a way that we think we can help this family. I think that was a great suggestion. And it's something that lets those families know that we're not only physically here for you, but you know, we want to help you in other ways, if possible, if we can lessen the burden."
Another tool MMIW Utah has is a list of eight things non-Indigenous allies can say, instead of remaining silent. The list includes things like understanding historical context and holding politicians accountable.
Brown said the list revolves around questions allies can ask themselves that will help center and amplify Indigenous voices.
In March, Restoring Ancestral Winds, or RAW, held a rally at the Utah State Capitol Building. The event coincided with the Utah State Legislature passing House Bill 116 and included a jingle dress dance for healing.
"The jingle dress dancers that performed at the Utah State Capitol rotunda earlier in March really played a significant role in how people heal," said Yolanda Francisco-Nez, who is the executive director for RAW, a non-profit advocacy group working to end various forms of violence.
"How they find healing through that is often by those cultural practices that are occurring, that among our tribes who still speak their language still conduct spiritual activities that help individuals to heal both mind body and spirit."
May 5 is established as a National Day of Awareness for Missing and Murdered Native Women and Girls. This year, RAW will host a Virtual Day of Healing.
"So how Restoring Ancestral Winds views this entire crisis of murdered and missing Indigenous women is we start from the very beginning and look at all the disruptions that happen to Native Indigenous communities," said Moroni Benally, the coordinator of advocacy and public policy at RAW.
"And we look at the institutional political indifference towards the Native to Indigenous communities right now, the chronic underfunding and how that all impacts the social relationships that individuals have with each other, how it affects their development. And then looking at how those factors elevate the risk of either being murdered or going missing. And there's multiple avenues that that can happen and so the emphasis on healing is about the entire process as opposed to just looking at the endpoint."
The webinar will feature multiple speakers and experts on this subject.
Francisco-Nez said, "That's really the message that we want to share across the board is that we have individuals who will be speaking primarily as researchers and people who have done this work for a very long time. It'll be great to have them share different ways we have found healing from victimization that is conducted often in domestic violence and sexual assault."
People interested in joining the webinar can register on the Restoring Ancestral Winds website. The webinar will be Tuesday at 6 p.m.
Resources:
StrongHearts Native Helpline:
The StrongHearts Native Helpline is a dating and domestic violence help center offering culturally-appropriate resources and advocacy for American Indians and Alaskan Natives.
Hotline: 1-844-7native
Website: www.strongheartshelpline.org
Restoring Ancestral Winds:
Restoring Ancestral Winds is a policy-oriented non-profit advocacy group working to end various kinds of dating and relationship violence. Registration for the Virtual Day of Healing is available on their website.
National Indigenous Women's Resource Center:
NIWRC is an organization whose goal is to end violence against Indigenous women and children.
PANDOS/MMIW Utah:
PANDOS and MMIW Utah are non-profit activist groups. They offer support to families as well as organize activism campaigns.
MMIW+ Utah Eight Things to Say Instead of Silence:
Eight Things to Say Instead of Silence is an educational document for allies to help them amplify Indigenous voices.
https://bit.ly/insteadofsilence
Strong Hearts Native Helpline: 
Hotline: 1-844-7native
Webinar:
www.restoricingawcoalition.org 
National Indigenous Women's Resource Center:
PANDOS/MMIW Utah:
MMIW+ Utah Eight Things to Say Instead of Silence