Roots of Brazil: Street Drumming Group 'Olodum' Teaches Culture Through Discipline And Music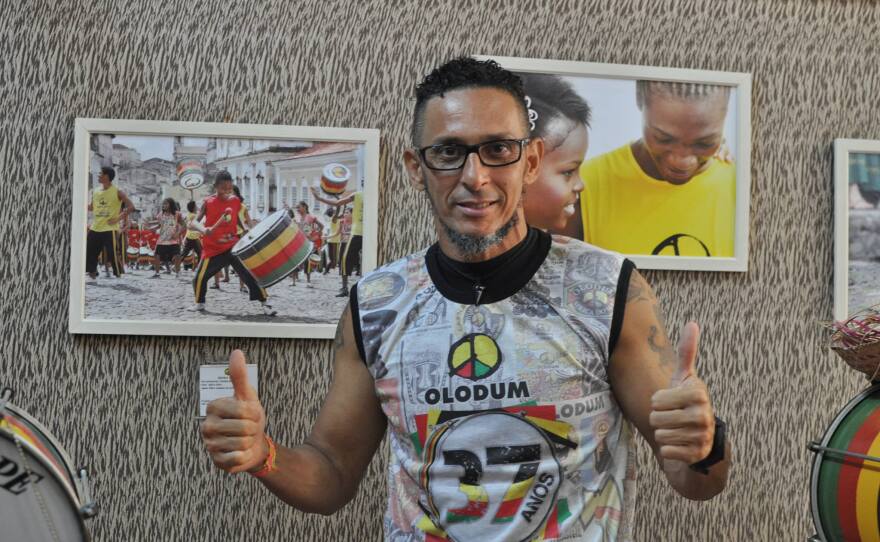 Olodum drum teacher Gilmario Marques de Andrade who's featured in this story.
Utah State University students at their drumming lesson with Gilmario.
The minute you set foot in the streets of downtown Salvador, Brazil, you are met with the sound of these drums. These are the drums of Olodum. Sounds that have become iconic of the Afro-Brazilian identity and culture of this colorful colonial city.
Since 1979, Olodum has worked in Salvador to provide opportunities to at risk youth, through music, singing, and dance. Over the years, the organization has garnered international recognition and their drum corps has worked with global stars like Michael Jackson and Paul Simon. Our Utah State University crew spoke with Antonio Antônio de Jesus, manager of Olodum, to find out more about the work his organization does with the communities of Salvador.
"The Olodum school is a social project that works with kids and teenagers from seven to sixteen years of age. It began as a social program for the communities of Salvador. Nowadays it is not only in Salvador, but in other metropolitan areas. We provide workshops in dance, singing, percussion, choir, cultural production and leadership training. We work to build students self-esteem, which can be very low. They come to do a workshop in percussion, and then start growing in other ways at the school. They will have opportunities to travel, to meet other friends. There is one big problem that we solve a lot, many kids who did not know how to read become literate here, even though this is a cultural school and not a formal school. The Olodum school has no ethnicity. All races, all ethnicities, white, black, indigenous, everyone who wants to participate is always welcome here at the school."
Olodum has always played a central part in the revitalization in Salvador's historic downtown district, called the Pelourinho. Before UNESCO declared downtown Salvador a world heritage site in 1985, the area had fallen into utter disrepair, and was considered a very dangerous part of the city. That same year, Olodum moved into the area to provide opportunities to those kids who were deeply affected by poverty, crime, and homelessness. The Utah State crew took a drum class from one of Olodum's first students: Gilmario Marques de Andrade.
Gilmario grew up in the Pelourinho neighborhood and was recruited by Olodum at the age of 15. He now works as a drum instructor, and is dedicated to providing kids with the disciplines of self-esteem necessary to keep them off the street.
"I have been part of Olodum for 34 years. Olodum is my life. I was born and raised in the neighborhood. I saw everything. I saw what was good and what was bad. The first show I played was in 1987 and we traveled to Brasilia. We have traveled by bus [and] truck. We played for bread, for soda, for everything. We always enjoyed it. Of course, nowadays, it has gotten better. You have now seen this organization, somebody back there worked hard to get it to this point. That's why many artists came from all over the world.
The important thing in our lives is as follows: each act in a way and react in a different way. If we could always do good, people regardless of their skin color, be it black, white, or indian, we are all equal. We have one heart. The only difference we have is social class. Those who do not have the opportunity to learn or study, and those who were born with better opportunities. The important thing is the coexistence of people, and that is what you are going to take from here, from me, and from others and what I'll take from you. Today, I am a good man because of music. And now, I always say, I owe my life to Olodum.
Reporting done by USU Professor of Global Communication, Jason Gilmore, from the Department of Languages, Philosophy and Communication Studies with help from students Brieann Charlesworth, Mckayle Law and Elizabeth Thomas.
Support for "Roots of Brazil" on Utah Public Radio is made possible by the USU Office of Global Engagement.