UPR's 2015 Book List on Wednesday's Access Utah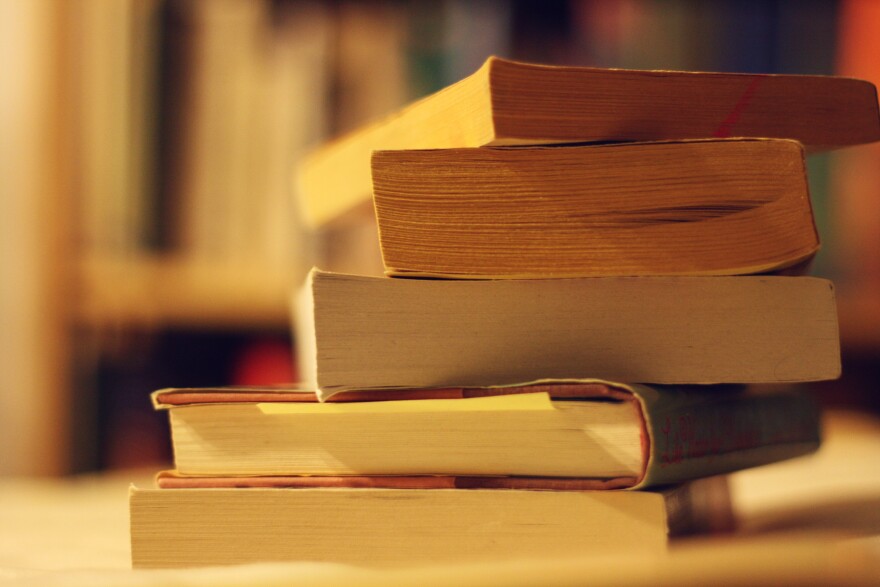 Periodically we join together as a UPR community to share what we're reading. On Wednesday's Access Utah we're doing it again, but with a twist: We want your list of the best books of 2015.

Elaine Thatcher joins me in studio and we'll hear from Anne Holman from The King's English Book Shop in Salt Lake City, Andy Nettell from Back of Beyond Books in Moab and Catherine Weller of Weller Book Works in Salt Lake City.
You can share your best of 2015 list with us by email to upraccess@gmail.com, via Twitter @UtahPublicRadio or on our Utah Public Radio Facebook page. And you can call us at 1-800-826-1495 between 9:00 and 10:00 Wednesday morning.
Anne Holman, The King's English Book Shop, Salt Lake City, Utah:
Our Souls at Night by Kent Haruf
Last Bus to Wisdom By Ivan Doig
Merry Christmas, Mr. Mouse by Caralyn Buehner and illustrated by Mark Buehner
Dead Wake: The Last Crossing of the Lusitania by Erik Larson
Andy Nettel, Back of Beyond Books, Moab, Utah:
Gratitude by Oliver Sacks--Alfred A. Knopf
Being Mortal by Atul Gawande--Metropolitan Books
A Man Called Ove by Fredrik Backman--Washington Square Press
Mountain Shadow by Gregory David Roberts--Grove Press
Girl Waits With Gun by Amy Stewart--Houghton Mifflin Harcourt
Colorado's Yampa River, Free Flowing and Wild From the Flat Tops to Green. Photography by John Fielder, text by Patrick Tierney--John Fielder Publishing
Rare Books Uncovered by Rebecca Barry--Voyageur Press
Catherine Weller, Weller Book Works, Salt Lake City, Utah:
SPQR: A History of Ancient Rome by Mary Beard
The Invention of Nature: Alexander von Humboldt's New World by Andrea Wulf
The Explainer: Complicated Stuff in Simple Words by Randall Munroe
Rad American Women A to Z by Kate Schatz
Barbara from Hyrum: Callers: Boy in the Striped Pajamas
Jennifer from Vernal: The Scarlet Letter
Diana from Vernal: The Curse of Chalion and Paladin of Souls by Lois McMaster Bujold.
Steve from Beaver Dam, Arizona: SPQR: A History of Ancient Rome by Mary Beard
Jake from Hyrum:
Zen And The Art Of Motorcycle Maintenance by Robert Pirsig
Finding Amelia: The True Story of the Earhart Disappearance by Ric Gillespie
Lieutenant Nobu Shirase and the Japanese Antarctic Expedition of 1910- 1912 by Nobu Shirase
Recording The Beatles by Brian Kehew
​
Maughn Gregory
Guantánamo Diary​ by ​​Mohamedou Ould Slahi ​​​
​Between the World and Me​ by ​Ta-Nehisi Coates
​Gateway to Freedom: The Hidden History of the Underground Railroad ​by ​Eric Foner
The Sellout​ by Paul Betty​
​Silence: The Power of Quiet in a World Full of Noise​ by ​Thich Nhat Hanh​
Dome of the Hidden Pavilion: Poems​ by ​​James Tate
The Wright Brothers ​by David McCullough​
Intimacy Idiot​ by Isaac Oliver​
Joseph Anderson
Adventures of a Waterboy​ ​by Mike​ ​Scott​
American Crucifixion: The Murder of Joseph Smith and the Fate of the Mormon Church​ ​by Alex​ ​Beam
Deep Dark Fears​ ​by Fran​ ​Krause​
Monk's Hood (Chronicles of Brother Cadfael, #3)​ ​by Ellis Peters​
The English Ghost: Spectres Through Time​ ​by Peter​ ​Ackroyd​
Elaine Thatcher:
The Case of the Deadly Butter Chicken by Vish Puri
My name is red, by Orhan Pamuk
The Sparrow by Mary Russell
Unicorn Variations by Roger Zelger
Heart Earth by Ivan Doig
The Hitchhiker's Guide to the Galaxy by Douglas Adams
A Garlic Testament on a Small New Mexico Farm by Stanley Crawford
The Road from Coorain by Jill Conway
Pride and Prejudice by Jane Austen
Delta Wedding by Eudora Welty
Team of Rivals by Doris Kearns Goodwin
Midnight's Children by Salman Rushdie
Outlander by Diana Gabaldon
Desert Solitaire by Edward Abbey
The Secret Garden by Frances Hodgson Burnett