Data-Driven Baseball: How America's Favorite Pastime Is Changing
The one constant through all the years has been baseball. America has rolled by like an army of steam rollers. It has been erased like a blackboard, rebuilt and erased again. But baseball has marked the time. This field, this game: it's a part of the past. It reminds us of all that was once good and that could be again."
-James Earl Jones, Field of Dreams 1989
Like a lot of kids, growing up I wanted to be a ball player. I knew all the players, looked for the box score in the morning paper, and traded baseball cards with my friends. At some point, we're all told we can no longer play the kid's game. After ten years as a shortstop, I was told it was time to think about college and what I wanted to study. I chose science and for the past eight years I've worked in the field and lab, collecting and analyzing data. Frankly, baseball hasn't been a big part of my life since then – that is until I found the connection between science and America's pastime.
"It's pretty cool with the scouting reports. They can tell you, you know, how much a guy's gonna throw his curveball in this count or if this guy is a spin-rate guy or a low spin-rate guy, meaning his ball's gonna sink. And if he has a high spin-rate, his ball's gonna ride and almost seems like it's rising. So when you go up there, you can come up with a better plan because you have more information to kinda go up there and say - ok. I'm gonna look for a fastball down here cause if it's too high, I'm not gonna be able to make contact with it," says the Salt Lake Bees' firstbaseman, Jared Walsh.
That's right. Data analysis. The nerds have taken over baseball. And now the players have way more information than they've ever had before.
"My name's Jared Walsh. I'm from Duluth, Georgia. I play first base, some outfield, very rarely. And, I pitch. And, I was called up to the major leagues while playing the Reno Aces on May 15th, 2019."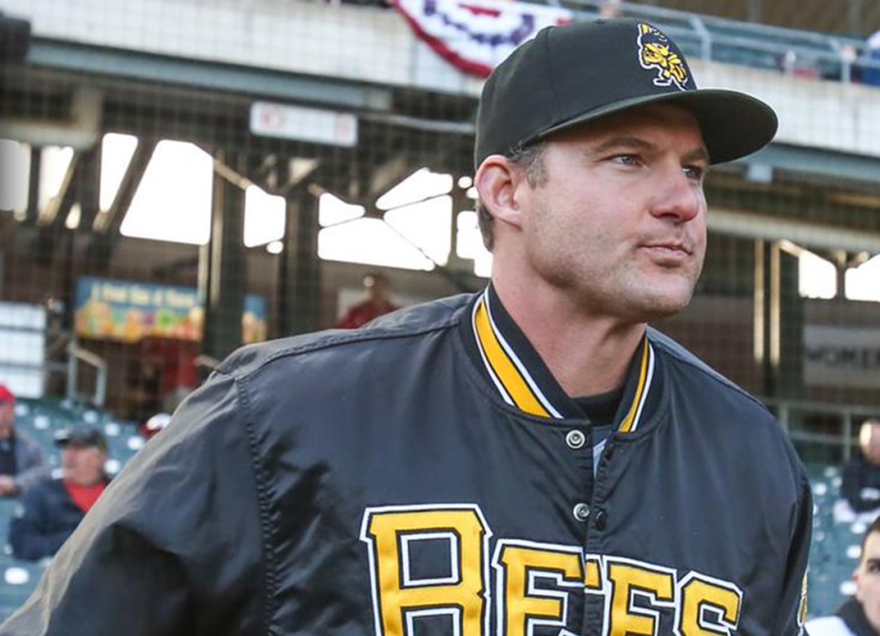 The new approach is called Sabermetrics and has been around since the early 2000s. It was the topic of the 2011 film 'Moneyball' starring Brad Pitt and Jonah Hill. There's a scene where Brad Pitt, playing the Oakland A's general manager is sitting at a table with all of his scouts and Jonah Hill, the data nerd. They're trying to figure out how to replace three of their best players who all got traded in the offseason.
Pitt:
"You guys are still trying to replace Giambi. We can't do it. What we might be able to do is recreate him in the aggregate. Giambi's on-base-percentage was .477. Damon's on-base, .324. And Almaeda's was .291. Add that up and you get…"
Hill:
"Do you want me to talk?"
Pitt:
"When I point at you, yeah.
Hill:
1.092.
Pitt:
Divided by 3.
Hill:
.364
Pitt:
That's what we're looking for. Three ballplayers who's average OBP is .364.
The approach focuses on the numbers, not players. It doesn't matter if they have a funny swing, or are considered too old. According to this philosophy, a player is good if...
Hill:
He get's on base.
Whether that's through walks, hits or errors. It doesn't matter. At least according to Sabermetrics.
But lots of scouts and old-school managers have pushed back on this approach. So I caught a game of the Angels' Triple-A team, the Salt Lake Bees, and chatted with their manager Lou Marson.
"You have to have both. There's sometimes a gut feeling but it's always nice to have the numbers. I mean you'd be stupid not to look at the numbers. As far as a player, sometimes it can be too much information when you're up there hitting. I mean sometimes you can put too many thoughts in your head rather than see the ball and compete," says Marson.
According to Marson, a former major league player himself, as a manager in the minor leagues, he's limited by what the Angels tell him they want. But he thinks their one of the teams that has embraced the new-age statistics the most.
"I came up with the Phillies and they were very old-school. We didn't have a ton of meetings. It was go out and play. So its good to see it on this side with the Angels."
At the game, I met a scout for the Detroit Tigers who unfortunately didn't want to be recorded. But he struck me as the embodiment of the old school way of putting a team together. He was there watching players, evaluating their hitting or pitching style. It's difficult to say whether the old or new techniques are the right way to go. But 1st baseman Jared Walsh seemed to have it figured out.
"I like to watch video and I like to just glance over the scouting report - kinda get a feel for what the guy's favorite pitches are. If he gets in trouble, maybe a 2-2, 3-2 count, what does he normally go with? And, I like to know whether his fastball sinks or has ride. But I'd say I'm somewhere in the middle. I definitely don't like going in there blind but I don't need to watch video for five hours and do a scouting report the entire day," he says.
And I'm inclined to trust Walsh. After all, when the Angels current first baseman Albert Pujols retires, it'll probably be Jared Walsh on the field in Los Angeles.