Crossing Borders: 'Engineers Without Borders' Collaborate to Bring More Water to Navajo Mountain
In June 2006 a wildfire on Navajo Mountain destroyed all vegetation resulting in debris and sediment contaminating Beaver Springs, the source of all water for the Navajo Mountain community.
Currently, a pipeline 40 miles away in Inscription House, Arizona provides a limited amount of water for household use by the 400 residents of Navajo Mountain. Unfortunately, secondary water - usable for gardening and livestock - is not available. Citizens have to drive miles to haul water back to their community.
At a weekly meeting of Engineers Without out borders, Utah State University students discuss design plans for a fill station at Navajo Mountain. A collaboration between the engineering firm Jones and DeMille, the Navajo Nation, and Engineers Without Borders are planning new infrastructure that will reestablish Beaver Springs as a usable water-source.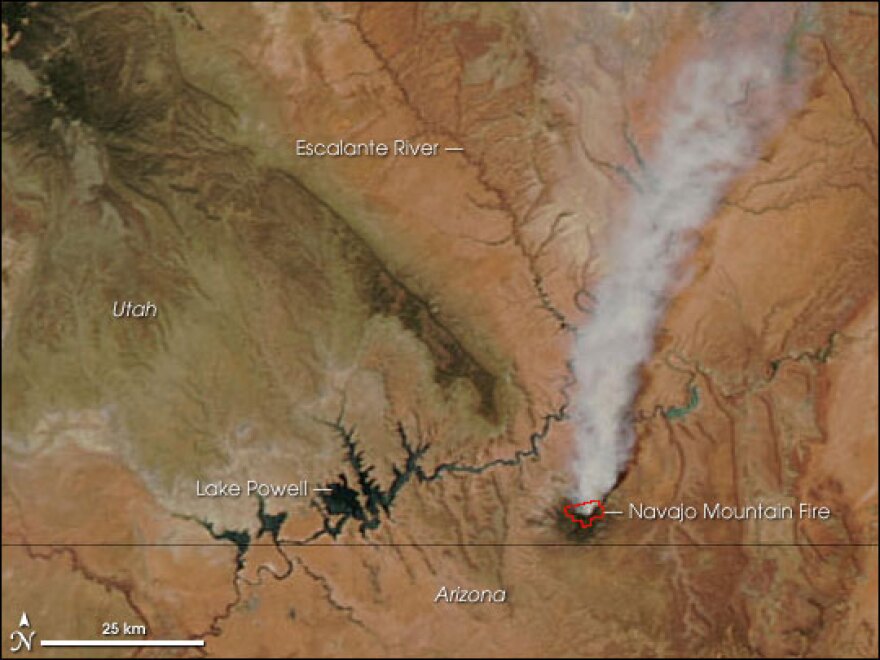 "Right now there is not a lot of economic potential," said USU engineering student Justin Pace. "One of the main economic drivers is livestock. If you have to drive just to get to an adequate water supply you're going to have to take several trips. So we hope to make more economic opportunities for the Navajo Mountain community."
Jones and DeMille engineer Ryan Jolly described how Engineers Without Borders can help bring secondary water to the community.
"The focus right now with this project is to get the locals a fill station, somewhere they can drive their trucks and fill up," he said. "Throughout the Navajo Nation, the majority of the homes are a mile apart or more so it's not very feasible to pipe water to each home. We are going to pipe to a central spot so all those residents can come get their water there instead of driving to Arizona."
The Navajo people have a long tradition of cultivating crops and livestock in the desert. Navajo Mountain Chapter President Hank Stevens said a central filling station would radically change life for local residents.
"Life actually will change dramatically because commuting to these water collection stands is time-consuming," he said. "It puts wear-and-tear on the vehicle. Even just the cost of traveling back and forth can be enormous. So when we are able to establish a collection point closer to their homes that will alleviate some hardships. At this point in time, they have to travel to Arizona. You know they might be traveling 20 or 30 miles just to retrieve water."
While Navajos live just miles from the Colorado River - one of the largest freshwater resources in the U.S. - it remains inaccessible as a secondary water source. Ryan Jolly spoke of the challenges associated with harnessing water in such a remote region.
"It's the desert - there's just not a lot of water," Jolly said. "It's funny because the Navajo have a lot of water resources in the Colorado River and there is just no way to get it up to the community. It's a long way, four or five miles plus several hundred feet in elevation – it's really deep! It's an incredible area that many people will never see in their lives. It's beautiful down there but it's just so remote that no one ever goes there" said Jolly.
In addition to water for citizens, more water means new infrastructure projects that previously, construction companies would have considered impossible without access to reliable water.
Hank Stevens acknowledged working with Engineers Without Borders has helped accelerate much-needed water projects.
"The only thing I can say is without them we wouldn't be doing some of the projects that we are doing out here," he said. "Some of the infrastructures, which are a main focal part of our community were made possible. Also, the potential to reacquaint our community with some of our ancestral corn fields and orchards that were implemented back in the late 1800s."
With so little precipitation in the area, it seems impossible that crops were once grown in the high desert, but by repairing old infrastructure, Stevens sees a brighter future.
"Some of the water systems that were being used for our croplands were in existence back then. Now there is a new generation, we need to improve on that, make it more usable. We can store it, we can turn the valve on when we need to, and save some of that water," Stevens said.
Increased wildfire safety, self-sustaining agriculture, and more infrastructures are just the beginning of what secondary water can provide for the people of Navajo Mountain.
The UPR Original Series "Crossing Borders" is a yearlong storytelling project between UPR and the USU Office of Global Engagement - providing services for international students and scholars; and facilitating study abroad opportunities for students and faculty. Details found here.